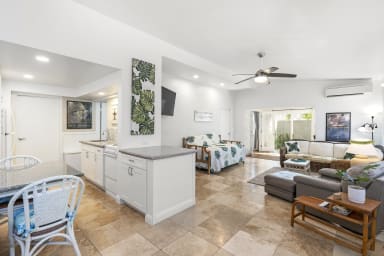 Delightful & Spacious 2 bedroom 2 bath Apartment, central AC
---
4-6

People

2

Bedrooms

2

Bathrooms

1250ft²
Perfect for a workation! Spacious 2 bedroom Apartment with 2 bathrooms * full kitchen * central AC * washer & dryer * private outside shower * 2 Porch with BBQ * walking distance to Kailua Beach* strong Wifi signal Can also be booked as a 1 bedroom, 1 bath Apartment
Take advantage of our Rental in Kailua Oahu, and enjoy a family style atmosphere where you are provided with all of the comforts of home.
Whether it be barbecuing under the covered lanai, or taking a walk to award winning Kailua beach, there is something here for everyone. A short drive brings you to Kailua town which allows for shopping and dining, while a thirty minute drive over the Pali will take you to Honolulu.
Come and spend your vacation with us and have a truly relaxing experience in your home away from home. Only 2 blocks from the beach.
Hiilani Suite
The Hiilani Suite is a ground floor Apartment with approximately 800sq ft. that sleeps up to 4 people. One queen size bed in separate bedroom and a trundle bed in the large living room.
Kalama Suite:
The second bedroom is part of the Suite but comes with a separate entrance
Ensuite bathroom with shower, toilet and sink
King size bed
Small kitchenette with refrigerator, microwave oven, induction hot plate, toaster, and coffee maker
Television
Split AC unit with the largest capacity.
Fast Internet Netgear Nighthawk with a up load speed of 330dpi
Ceiling fan
separate Lanai with BBQ
For your own comfort you find a couch and a streaming ready smart TV in the living room. The AC was replaced with a split AC unit, with the largest capacity. In addition the rental comes with two ceiling fans. The fully contained kitchen provides you with everything you need for a full meal.
Ensuite washer and dryer
Fast Internet Netgear Nighthawk with a up load speed of 330dpi
Private backyard with outdoor shower, covered patio and BBQ.
A travel crib and high chair will be available for our little guests. We also offer beach chairs, mats, towels and boogie boards for your convenience.
The next beach access is a 5 minute walk way.
The Beach
A long, graceful bay protected by a coral reef is Kailua's delight. The nearly 4-mile-long stretch of ivory sand is made for strolling, and the weather and wave conditions can be just about perfect for swimming, kayaking, windsurfing and kitesurfing. South along the shore lies the exclusive enclave of Lanikai, with million-dollar views – and mansions to match.
Kailua is a beautiful beach town! With fabulous dining, shopping and activity choices - one never gets bored here. Kailua and Lanikai beach are huge highlights of our town, but there are also amazing eating and unique shopping experiences as well.
We would recommend a car, however Oahu is known for its amazing bus system with stops that can take you all over the island. Bus stop is just a few hundred feet away.
This property is a legally established dwelling that is rented for period of 30 consecutive days or more at any one time regardless of actual occupancy.
+ More
Less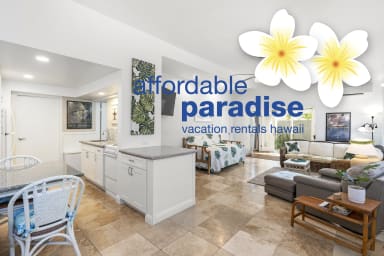 The Space
Accommodates: 4-6
Bedrooms: 2
Bathrooms: 2
Property Type: Apartment
Check-in: 15:00
Check-out: 10:00
---
Amenities
Laptop Friendly Workspace

Long Term Rentals Available
Laurie S.

Best BnB we've ever stayed in!

We spent two month's in this rental while working in Hawaii. The space is open, bright, breezy, and has AC for hotter days (we barely used it!). Our host Barbara was very attentive to our needs and made sure we had everything we needed. The separate one bedroom unit with a private bath and kitchinette was perfect for when we had family visit us. The short walk to the beach (about 6-7 minutes) made it easy for us to go daily. This part of the beach is more natural and has way fewer visitors. Some days we were the only ones on the beach. We highly recommend this rental to anyone looking for a peaceful "ohana" home.

July 2023

---

Laurie S.

Best we've ever stayed in!

We have had an exceptional time at Barbara's guesthouse. The setup was perfect for our family - the extra studio added the privacy and convenience when our family came to visit us. This unit had its own entrance but could still be accessed from an inside hallway. The main unit has a beautifully redone kitchen and spacious living area. There is great airflow, wonderful breezes and great AC in both units and the wifi is very strong. We were very comfortable here. But the best part is the host who made us feel so at home. She was always sure to see if we needed anything to make our stay exactly what we needed. We can't wait to go back!

June 2023

---

Brian F.

Perfect beach rental

Barbara is a delightful and thoughtful host, providing privacy but periodically inquiring about our needs. The guest unit is clean, comfortable, efficient and convenient to a sparsely populated beach a block away. We found it an ideal rental.

April 2022

---

Great Family Stay

Barb was a great host and this rental was in a fantastic location. Our family of 4 had a blast and are looking forward to staying here again.

March 2022

---

Carolyn R.

Great house close to the most beautiful sunrises at Kailua beach

We spent 2 weeks at this guesthouse that exceeded our expectations. We were able to walk to the beach each morining for the sunrise that never disappointed us. The house was very comfortable with AC, a full kitchen, nice showers one inside and the other outside, a washer and dryer and a comfortable bed. Barbara was a great host always ammenable to our needs. There were boogie boards available for us to use daily. We had a parking spot and were able to walk into Kailua town. There was also a table and chairs to sit outside. I would highly recommend this guesthouse for a stay in Kailua and hope that I have an opportunity to stay there again.

February 2022

---

Wonderful lodging!

My wife had a wonderful month-long stay at the Hiilani Guesthouse. The accommodations were immaculate, spacious, quiet, and private. The little "extras" such as the in-unit washer and dryer and the full kitchen add to the positives for this property. Hiilani Guesthouse is ideally situated as it is just a few minutes from Kailua town and from the Pali and Likelike Highways and the H-3 freeway that go to Honolulu, Waikiki, the airport, and the "other side" of Oahu. Barbara is a gracious, hospitable hostess who is extremely considerate of her guests. This is a definite "stay again" property when my wife and I return to Oahu!

October 2021

---

Excellent place to call home

Barbara was an exceptional host. We had everything we needed and she was very helpful. The location is perfect, walkable to The Best beach, and the unit itself is very quiet and private. We loved the AC in the humid month of August. Highly recommend and hope to stay again.

September 2021

---

Just Right

We just spent a month here at Barb's place. It was very comfy and we had company over a number of nights and had no problems. We had 5 total for dinner a couple of times and it went well. We choose this place because of location, kitchen and space. Barb is the best host! Do not rent a big car as it is a tight parking spot here and everywhere else on the island. We would rent here again.

May 2021

---

Brad W.

Air Conditioned Hideaway

Barbara C. was a B&B host before anyone was online and her experience shows in the details large and small. The space was constructed to separate the bedroom from the living room by an innovative glass sliding door. Attached to the main bedroom is a second bedroom, which might have been a closet but was lit by a window. The apartment is filled with little notes from Barbara, undoubtedly the product of experience, and handy touches, such as power strips always within reach. The unit has its own solar hot water tank. Showers at night were hot and can be easily adjusted to be plentiful. The air conditioning was cool. The washer-dryer is inside the apartment. When her place became unexpectedly available, we enjoyed a great value and enjoyed our short walks to the beach.

January 2021

---

Wonderful Experience

We were treated like old friends our entire stay. We truly had a great experience. The home fit our needs perfectly, and being two blocks from the beach made life super easy for our water bug toddler. Highly recommend!

September 2020

---

Ben L.

Just like being home

The place is great! Location is perfect, site is clean and bet of all Barbara is very nice. she made us feel like at home. there if we needed her and very discreet! Fantastic stay!

March 2020

---

Yoshiki K.

Comfortable

I was able to spend it comfortably like home. Secand bedroom should have been a little larger.

December 2019

---

Terrence C. (

United States

)

Terry Ching

Very inadequate Air Conditioning disappointed after selecting this property that billed as "Air Conditioned" with a window insert air conditioner, one ceiling fan and 5 fans. Should have advertised as fan cooled with small air conditioner. It took more than Half an hour to cool the unit. Unit was not equipped with an exhaust fan above the stove, large roach in the bathroom. Geckos were found in the unit. Parking was difficult you had to back 40-50 yards down the drive way as there was not enough room to turn the car around. No weather strip under door, where insects and hot air was entering the unit. Not a very well maintained unit for the price within refund. We were greeted by a very nice guy that had very little information, he was house sitting for the host. I see why there is "No Refund or Cancellation Policy". Deceiving and false information.

August 2019

---

Keshia S. (

United States

)

Wonderful Place

We had a wonderful stay. I highly recommend staying here. Plenty of fans and the a/c was a plus. It's nice, quiet, very clean and everything you need to make your own meals. I loved having a washer and dryer. We went to the beach several times and used the beach umbrellas. Thank you so much Barbra for allowing up to stay and for being so friendly and helpful.

May 2019

---

What a nice winter vacation.

We had the most wonderful stay at Auntie Barbara's Vacation rental. The Hiilani apartment was spacious enough for the 5 of us and with a furnished kitchen, tv, washing machine ect. The WiFi was working ok but not in all corners of the apartment. For us living next door to Barbara was very helpful. Coming from overseas she was a very helpful tour guide for us. The Kailua area was nice and the apartment is within walking distance from the beach.

October 2017

---

Great place for our family!

We needed a place for myself, my husband, our 2 year old, and my in-laws, in Kailua. Auntie Barbara's 2 bedroom apartment turned out to be just right for our family's needs. Barbara was always very understanding and helpful. We look forward to coming back someday!

October 2017

---

Perfect Vacation in Kailua!

We had a memorable time in Kailua. The accommodations were perfect for three adults. Just a short walk to Kailua Beach and convenient to restaurants and grocery stores. We would definitely be back.

October 2017

---

A home away from home

Had a fantastic stay at "the Hideaway". It is exactly what it's title says - Sweet and Hidden away. It is only a block back from one of the most beautiful beaches in the world, and yet doesn't have that touristy feel that Waikiki has. There is a vast array of good shopping a 5 minute drive away, and a huge barbeque for the guests use. We felt completely secure due to the coded entry onto the property, and Maribeth was always available if we needed anything, and let us use the beach equipment. The cooktop has two burners, but is ample for producing good evening meals, and the fridge is stocked on arrival for the next morning's breakfast. Kailua is wonderful and most places on Oahu are only an hour away by road. I would go back and stay at M&M's in a heartbeat

October 2017

---

Great place!!!

We loved the Hiilani apartment very much! It was very clean and had more than enough space for the 3 of us. The cupboards were stocked with the basic necessities. Very comfortable and clean. We fell in love with Barbara she was so kind and helpful. We hope to come back again next summer.

October 2017

---

Great location and accommodations for family

The Hiilani apartment/guest house was a comfortable space for us (2 adults and 2 teenagers). Fully stocked kitchen with staples was a big benefit. Being able to walk to a nice beach in 5 minutes was wonderful. We appreciated the available boogie boards as well as snorkels and masks. Kailua was a good location away from the crowds, but still easy to get over to Pearl Harbor and other places on the island. Barbara was a lovely host.

October 2017

---
US$189.00

→

US$198.00

/ nightly
Book Now
Number of 5-star Reviews
5-star review tracker
Commitment Rate
100% - we never cancel a stay
Average Response Time
within a few hours