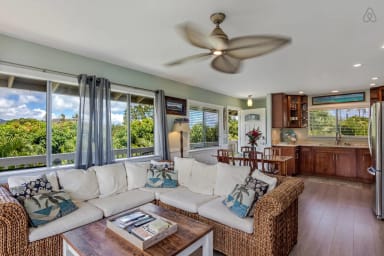 Island Style Homebase * 2 bedroom * 1 bath * AC* full kitchen *Washer/Dryer
---
2-4

People

2

Bedrooms

1

Bathroom

900ft²
Lovely Kapakai Cottage with 2 bedrooms, 1 bathroom with tub & shower, full kitchen, AC and beautiful tropical mountain views all-around
Amazing Mountain Views in a Lush and Peaceful Setting
If you appreciate lush and green surroundings you have come to the right place in an exclusive Kailua neighborhood.
Kapakai Cottage is a newly renovated modern island style apartment on the second story of our home in Kailua. There are beautiful mountain views all around. The balcony, bedrooms and living room overlook the lush Koolau mountains.
The apartment is located in a quiet neighborhood, about a five-minute drive from Kailua town and beautiful Kailua/Lanikai beaches.
There is a king size bed in the master bedroom and a queen size bed in the second bedroom. We also offer a pack'n play and portable crib for a infant.
The bath has an entry to both the living room and the bedroom.
The kitchen is fully equipped with a cooktop stove,& oven, full size refrigerator & freezer, Coffe mashine, microwave and much more.
The bath has a jacuzzi tub, which can also be used as a shower.
Wireless internet access, cable TV, and DVD/VCR, are also provided.
The Apartment provides central air conditioning that will cool the entire apartment, both bedrooms and the living/kitchen area if needed.
There is plenty of ventilation with ceiling fans in both bedrooms and in the living room in case you prefer to open the windows.
The Apartment comes with washer & dryer, located below the stairs that lead to the Apartment.
Beach accessories like boogie boards and beach chairs are available.
Located about 20 minutes from Honolulu, Waikiki and Hanuama Bay and Pearl Harbor. This property is very well situated not far from the scenic routes taking you to the North and South Shores where you can enjoy the magnificent Hawaiian coastline.
Kailua is a very charming windward beach town where you will find the residents most pleasant and helpful. Kailua offers many restaurants and shops. Golf courses, tennis and water sports such as windsurfing, para-sailing and kayaking. On the windward side you can also enjoy a day at Sea Life Park, encounters with animals at Kualoa Ranch and some amazing hiking.
Property Type
Apartment
Suitability
Pets Not Allowed
Non Smoking Only
Children Welcome
Bedrooms: 2 Bedrooms, Sleeps 5, Beds for 4-5
Bedroom 1
Bedroom 2
on King size Bed
one queen size bed
futon floor mattress for a child or 5th person
Bathrooms:
1 Bathroom
Kitchen & Dining
full size stove,
full size Refrigerator
icemaker
Microwave Oven,
Coffee Maker,
Blender,
Cooking Utensils,
BBQ
Dining Area Seats:
4
Amenities
Off Street Parking
Linens Provided
Hand and Beach Towels Provided
Iron & Board
Hair Dryer
Entertainment
VCR
DVD Player
Television
Satellite / Cable
Communications
Wireless Internet
Parking Off Street
Linens Provided
Hand and Beach Towels Provided
Iron & Board
This property is a legally established dwelling that is rented for periods of 30 consecutive days or more at any one time regardless of actual occupancy.
TAT: TA-181-128-3968-01
+ More
Less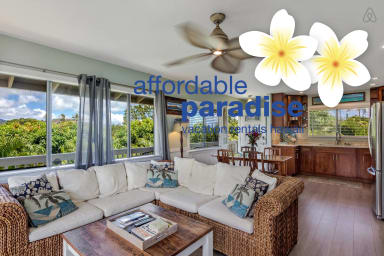 The Space
Accommodates: 2-4
Bedrooms: 2
Bathrooms: 1
Property Type: Apartment
Check-in: 15:00
Check-out: 10:00
---
Amenities
Laptop Friendly Workspace

Long Term Rentals Available
William N. (

United States

)

nice Kailua flat

Nice apartment, spacious and clean. short drive to closest restaurants and shopping. 10 minutes to downtown Kailua and Kailua Beach Park. Easy access to Honolulu and North Shore.

September 2023

---

Laura L.

Perfect getaway!

The Kapakai cottage offered a peaceful and quiet retreat that allowed me to recharge and relax. The beautiful house felt like a second home, and I can't wait to return. If you're searching for a tranquil getaway with all the comforts of home, I wholeheartedly recommend this gem. The location is also a close bike ride to Kailua town and Lanikai beach, and Safeway (grocery store) is at a walkable distance.

September 2023

---

Loved this place!

Close to everything. Beach. Restaurants. Grocery stores. Great neighborhood and running trails.

October 2022

---

Gena W.

Perfect little place

Place was just exactly right!

September 2022

---

Robert S. (

United States

)

Wonderful Stay

We really enjoyed the stay, the people, location, accommodations were all wonderful.

January 2022

---

Katrina S.

Kailua cottage

Great, convenient location!

December 2021

---

Fernando &. (

United States

)

Living Local

Nice, quiet neighborhood environment. The unit was the perfect size and layout for our month-long stay. David was a gracious and helpful host with a deep knowledge of the island. An easy walk to Enchanted Lakes Shopping Center with a Safeway and numerous eateries. A quick drive to Kailua Town and the beach.

July 2021

---

A Great Alternative to Waikiki!

Me and my friends stayed at Sandra's property and it was a delight. The apartment was very clean, comfortable, and had all of the necessary amenities for a long stay. My friends and I worked from home at this location and everything went smoothly. One time the Wifi went out because the power went out? Anyways, we contacted our host (Sandra/Dave) and they were able to fix it ASAP. They were also very responsive and attentive in general. Thanks for the nice stay!

May 2021

---

Great stay!

Very great location, hosts are really nice and accommodating. Washer and dryer is very convenient for longer stays. Overall enjoyed our stay here!

May 2021

---

Brian K.

Nice stay

We really enjoyed staying at this lovely cottage for 3 1/2 months. It was a great homebase and really felt like home. The family downstairs were incredibly sweet and we got to hang out with them on multiple occasions. Family and friends that visited always remarked on the beautiful decor of the cottage and the fresh airflow coming from the plentiful windows. We loved staying in Kailua town and this is a really great/affordable option. Thanks for everything!

April 2021

---

Amy B.

Awesome Cottage

Good quiet spot. Good views. Nice deck to sit and relax. 2 nice dozed bedrooms. Sleeps 4 comfortably. Nice kitchen snuff livingroom. Nice bathroom that splits into 2. Comes with beach towels, boogie boards, beach chairs and bikes. Fit ot stay perfectly. Thank you!

January 2020

---

John T.

Fantastic cottage in Kailua!!

We love the location and convenience of the set up. Bravo! Great place to see the sunrise!!

January 2020

---

Wonderful experience

This is my second time stay with Larsen Family in their lovely Kapakai Cottage. If you rent a car, a beach lover and try to escape noise from tourists. This is a perfect choose. We go to Kailua beach park almost every day and enjoy a lots. When we back to cottage, the full equipped kitchen and living room space support us spend quality of time with family. I highly recommend Kapakai Cottage to my friends and enjoy the best trip as I had. Chang Juilin from Taiwan.

October 2019

---

Excellent property

The property was nicely updated and equipped. We thoroughly enjoyed our stay.

July 2019

---

Janet G.

Janet Gray

Such an awesome place to stay . Highly recommend!!! Hosts : David and Sandra were fantastic hosts . Great location !! Perfect place to stay in Oahu.

July 2019

---

Troi S.

great views!

Owners were great and very helpful. Traveling with daughter and two grand daughters, one baby. owners had all of the baby things. We stayed several other places and this was our favorite. Very clean the yard was very well cared for. Great part of the island!

June 2019

---

1st Hawaii vacation

We loved the cottage.. the owners live underneath and are very Kind, fun people! Street parking was free. I am so glad we stayed here compared to a large Hotel.

June 2019

---

Not what we expected

"Erst bei der 2. Anfahrt wurde uns klar, dass wir hier richtig waren. Die Hausfront: eine Doppelgarage. Man geht dann an der Seite durch ein Törchen mit einem (bekannten) Code und einen schmalen Pfad zu einer etwas abgewetzten steilen Holztreppe mit 15 Stufen. Zugang zum Garten/Rasen hat man nicht.Der Eingang in ein doch schon recht altes Haus, wird ebenfalls mit demselben Code geöffnet, so braucht man keinen Schlüssel. Die Wohnung ist deutlich kleiner, als sie auf den Bildern wirkt. Sie ist mit vielen hübschen Details dekoriert..Internet ist vorhanden. Die Matratzen waren sehr gut, aber die Kopfkissen sind zerklumpt und sollten dringend ausgewechselt werden. Auch sollten vor Ankunft neuer Gäste die Glühbirnen der Wohnung kontrolliert werden, bei uns waren einige defekt waren oder fehlten ganz. Das pinkfarbene Wannen-Bad mit einem sehr hohen Einstieg,könnte für kleinere Personen Problem. Es dauert und dauert eigentlich viel zu lange, bis warmes Wasser kommt. Das gleiche auch für das Waschbecken und das Spülbecken in der Küche.Die Küche hat mich auf den Bildern doch sehr begeistert, der riesige Kühlschrank (das Licht darin hat einen Wackelkontakt, hatte man Glück, ging es an, ansonsten tastete/suchte man im Dunkeln...). Leider fehlt - wie ansonsten in amerikanischen Mietwohnungen üblich - die Spülmaschine. Die Töpfe waren nicht unbedingt so, wie man sie hätte erwarten dürfen.Das wenige Geschirr störte insofern nicht, da man ja sowieso das Frühstücksgeschirr abgespült hat Nachdem wir bereits 4 Wochen unterwegs waren, hätte ich gerne schon einen Teil der Wäsche gewaschen - leider ist auch keine Waschmaschine.vorhanden. An den Fenstern befinden sich Fliegengitter, die Klimaanlage funktioniert einwandfrei. Es gab keine Liegestühle, Sonne auf der Veranda erst ab Spätnachmittag. Tägliches stundenlanges Gekläff der Hunde aus umliegenden Häusern.

April 2019

---

Kapakai Cottage

Aloha, leider fällt unser Commentar nicht positiv aus. Bei der schmuddeligen Eingangstür haben wir noch beide Augen zugedrückt, und waren erst einmal beeindruckt von der Geräumigkeit der Suite und der Aussicht über das dicht besiedelte Stadtviertel auf die Pali. Wir hätten dann gerne die Schiebefenster geöffnet, aber etliche davon drohten bei der geringsten Berührung heraus zu fallen. Reparaturbedürftig war noch einiges mehr. In der Kaffeemaschinen fanden sich eklig verschimmelte Reste und im Schlafzimmer auffällige Staubschichten. Im Bad würden ein oder mehrere Haltegriffe, wie sie inzwischen weltweit in Privatunterkünften und Hotels obligatorisch sind, mehr Sicherheit und Comfort gewährleisten. Auf dem schönen Balkon befand sich außer einem kleinen Tischchen nur ein einziger Stuhl bei Dreierbelegung! Wir haben außer Kaffee und Tee nicht gekocht aber gerne zum kalten Frühstück Früchte genossen. Mit den wenigen, stumpfen Messern wurde das Zerteilen einer Ananas jedoch zu einer abenteuerlichen Herausforderung. Nachdem unsere Unterkünfte auf Maui und Big Island überreichlich mit allen kleinen Küchenhelfern und Elektrogeräten ausgestattet waren, gibt es hier nur die Bewertung "poor". In den anderen Unterkünften fanden wir auch comfortable Strandliegen vor, hier leider nicht. Sorry, aber wir würden dieses cottage nicht wieder wählen und auch nicht empfehlen. In Kailua scheint zu jedem Haus ein Hund zu gehören, und anhaltendes Gebell allnächtlich stört die Nachtruhe erheblich. Die Nächte auf den anderen Inseln waren dagegen sehr ruhig.

March 2019

---

Larissa A.

Great place for a family!

Convenient and clean! Thanks for a great stay!

November 2018

---

Ottima posizione

Casa in posizione tranquilla ma servita di tutto; l'alloggio ha tutto quello che serve è la padrona di casa è stat sempre diposninile per ogni problema. La Consiglio

June 2018

---

Chris J.

Great Stay

We really enjoyed our stay at the cottage. The rooms and beds were nice, the living room was open and bright, and the kitchen was new. Parking out front was always available and it was just few minutes drive to Kailua and Lanikai. The AC kept the place cool and was key as it gets a lot of sun in the late afternoon. Everything was quite easy for us and all instructions were straightforward and thorough. We'll look to book here again whenever we come back to see family.

June 2018

---

Shoshana K. (

United States

)

Comfortable apartment to call home for a week

My husband and 20 month old son stayed at the Kapakai Cottage for a week while enjoying the island of O'ahu. It was a great place to call home for a week. The kitchen was sufficiently stocked to cook basic food, the living area was comfortable and all of the rooms had air conditioning for the nights we needed it, though the island breeze was actually really nice most nights. We also really appreciated that they provided a pack n play, beach chairs, bucket and toys for the sand, among other beach equipment. The location, while not directly on the beach, is a 5-10 minute drive to all areas of Kailua, including the beach, so we thought it was conveniently located. Sandra, the owner, was very responsive whenever we had questions, but otherwise, she and her family respected our privacy. I would be happy to recommend the Kapakai Cottage to others traveling to Kailua.

April 2018

---
€135.00

→

€148.00

/ nightly
Book Now
Number of 5-star Reviews
5-star review tracker
Commitment Rate
100% - we never cancel a stay
Average Response Time
within a few hours