Delightful Cottage with separate bedroom- private bathroom - kitchenette- in unit washer/ dryer - cable TV - free parking on property - strong internet- can be rented for 30 days or more
500 square feet Apartment with 10 foot ceilings, comes with queen bed in separate bedroom, queen size pull out sofa bed in Living room, washer dryer, full equipped kitchenette, free parking and free Wifi. We offer a yoga mat, some beach toy's, beach towels and beach chairs.
This unique private Apartment will allow you to enjoy the best Kailua has to offer without an extraordinary price tag. Perfectly located between beach and town, providing easy walking access to all Kailua has to offer.
This deluxe 1 BR Cottage with queen bed & queen sleeper couch is just 1 1/2 blocks off the best part of world class Kailua beach.
The Cottage is newly renovated with a spacious living room,
Master bedroom with queen bed, large closet and bath with shower.
Living room couch pulls out into a queen bed with more closet space in the hallway.
Two other parties live on this property: A family of four with two young children in the main house and a young married couple in the back cottage.
You can cook using the two burner cook top, the microwave, or enjoy a cup of coffee or espresso. We added a refrigerator and freezer, toaster, hand blender, electric water heater plus a washer and dryer for your convenience.
Short 5 minute walk to Kailua town center where you can find grocery stores, unique boutiques, Starbucks coffee, tons of restaurants and bars.
free parking on site
snorkeling gear
beach chairs and towels, cooler
Portable AC Unit available for $25/day
We respect your space and privacy during your stay. Of course if you need any help, suggestions or recommendations we are here for you.
Kailua is a beautiful beach town! With fabulous dining, shopping and activity choices - one never gets bored here. Kailua and Lanikai beach are huge highlights of our town, but there are also amazing eating and unique shopping experiences as well.
The Beach
A long, graceful bay protected by a coral reef is Kailua's delight. The nearly 4-mile-long stretch of ivory sand is made for strolling, and the weather and wave conditions can be just about perfect for swimming, kayaking, windsurfing and kitesurfing. South along the shore lies the exclusive enclave of Lanikai, with million-dollar views – and mansions to match.
We would recommend a car, however Oahu is known for its amazing bus system with stops that can take you all over the island. Bus stop is just a few hundred feet away.
We ask that you do not smoke inside and please be courteous of noise after 10 PM.
This property is a legally established dwelling that is rented for periods of 30 consecutive days or more at any one time regardless of actual occupancy.
TAT 017 251 7376 01
+ Mehr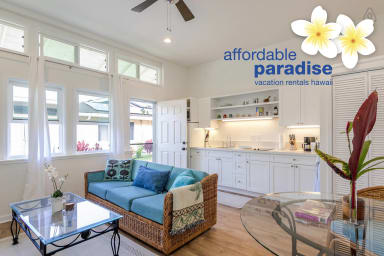 450 square feet, ground floor with separate bedroom
5 minute walking distance to Kailua Beach and beach park
24 Stunden Check-in
Klimaanlage
antik
Art Deco
atypisch
Babybad
Babybett
Babysitter Empfehlung
Balkon
Baroque
Grill
In Strandnähe
Strandausrüstung
Fahrrad
Vogelbeobachtung
Mixer
Kinderbücher
Wasserspender
Kohlenmonoxiddetektor
Deckenventilatoren
Reinigung und Desinfektion
Wäschestrockner
Kaffeemaschine
kontaktloser check-in und check-out
zeitgenössisch
Fahrradfahren
Geschirrspüler
Im Stadtzentrum
ökologisch
Ökotourismus
imperial
Energieeffiziente Geräte
Wesentliches
zusätzliche Kissen und Decken
gefiltertes Wasser
Feuerlöscher
Erste-Hilfe-Set
Freie Reinigung
Gefrierschrank
Kühlschrank
voll ausgestattete Küche
Spiele für jedes Alter
Garage
Garten
eingezäuntes Grundstück
Handschuhe verfügbar
Golf
Haartrockner
Handdesinfektionsmittel
Kleiderbügel
Hochstuhl
historisch
Hi-tech
Staubsauger
Reiten
Eismaschine
Internet
Bügeleisen
Jacuzzi
Kajakfahren
Wasserkocher
Kinderfreundlich
Kochnische
Laptop-fähiger Arbeitsplatz
Bettwäsche und Handtücher
Langzeitvermietung möglich
Masken verfügbar
Mikrowelle
minimalistisch
Moskitonetz
In den Bergen
Mountainbiking
In Meernähe
Kein Einweg-Kunststoff
Keine Einweg-Toilettenartikel
Bio-Lebensmittel & Getränke
Backofen
Parken inklusive
Terrasse
privater Pool
Gemeinschaftspool
Privatparkplatz
Privater Eingang
professionelle Reinigung
Papierlos / recyclingsystem
Erneuerbares Energiesystem
romantisch
Sicherheitskarte
Segeln
Satellit oder Kabel
Sicherheitssystem
Selbst Check-in
Gemeinschaftsparkplatz
Einkaufsmöglichkeiten
Rauchdetektor
Rauchen nur im Außenbereich
Schnorcheln
Social distancing
Angestellte tragen Schutzausrüstung
Surfen
Unterstützung zu Nachhaltigkeit von Immobilien
Baden
Tennisplatz
Terrasse
Toaster
Handtücher werden auf Anfrage gewechselt
Spielzeuge
TV
Ventilator
viktorianisch
Weinberg
Waschmaschine
Abfalltrennung
Walbeobachtung
Windsurfen
Weinglässer
Holz
Arbeitstisch
Bewertungen
George E.

George E.

Great Extended Stay!

My fiance and I stayed at Turtle Cottage for about 4 months. It was the perfect location in Kailua, equidistant to the public beach access and Kailua Town (~10 minutes of walking). Overall a very walkable location and accessible to other parts of the island by car, or even the nearby bus stops. Barbara and James were extremely accommodating and communicative our entire stay, checking in on us multiple times to make sure we were all set. The space itself was the perfect size with generous storage in the bedroom closet (with drawers), linen closet and kitchen cabinets. All cookware and dinnerware was provided for us and although it is not a full kitchen with an oven, the counter-top stove was great for cooking any and all meals. In addition to regular linens being provided, beach towels and chairs were also provided and we did not have to worry about purchasing Hawaii beach essentials! The shower was also very spacious and updated. I highly recommend this stay. Thank you Barbara and James!

---

Beth P.

Beth P.

VP of medical affairs

This place was PERFECT for me. Close to town within walking distance, and very safe. The cottage had everything I needed and was neat and clean. I miss my time there already. The owners are fabulous, prompt and helpful. I can't wait to return and stay again and again!

---

Florence L.

Vereinigte Staaten

Florence L.

Vereinigte Staaten

Turtle Cottage

Short walk to the most spectacular beach which we shared with swimmers, sunbathers, wind and kitesurfers. There were beach towels, beach chairs and a water toy or two available for our use. The cottage itself was fresh and attractive, clean and comfortable. Cooking options were modest but covered basic needs. Would have appreciated a few basic toiletries (shampoo etc) and kitchen supplies (salt, pepper, cooking oil). Would definitely recommend a stay at Turtle Cottage in Kailua.

---

Beth P.

Beth P.

Beth

clean, efficient, friendly, and easy!

---

Jared G.

Vereinigte Staaten

Jared G.

Vereinigte Staaten

Fabulous!

Superb "home base" for all your island adventures!

---

Rick L.

Kanada

Rick L.

Kanada

Beautiful Place

Love the place. Its super clean and barb was super helpful. Walkable to everything including beach and town. I would highly recommend it and stay there again

---

Kai B.

Kai B.

Fantastic guest house in a great region

We loved our stay at the Hula Girl Cottage. It was the best vacation home we've had during our stay in Hawaii.

---

Cindy M.

Cindy M.

The best place I've ever stayed.

This lovely rental was well stocked with every thing a person would need. From beach activities right down to the linens. If I could I would live there. Barbara and James are outstanding hosts, I felt very fortunate to have been their guest. The entire place it's spotless inside and out, I really miss being there. I hope to have the pleasure of staying with then again, absolutely wonderful. Thanks again for having me.💙💙🌺

---

Claudia E.

Claudia E.

Lovely "hula girl cottage"

Sehr freundliche Gastgeberin, sehr schöne gut ausgestattete Wohnung , nahe Kailua und Lanikai beach

---

Ben H.

Vereinigte Staaten

Ben H.

Vereinigte Staaten

Excellent experience.

My wife and I loved the stay. Everything was true to the description of the rental property. Very clean, bed was super comfy, TV had many channels to choose from, nice kitchen. The washer and dryer came in handy. Beautiful beaches close by, in walking distance. We traveled most of the island and Kailua and Lanikai was our favorite areas. The rental is very close to shopping and restaurants. The owners were super nice, they made you feel at home. Can't say enough nice things about our experience staying at The Hula Girl, we definitely want to come back very soon! We miss it already!

---

Yoko S.

Japan

Yoko S.

Japan

Nice location and beautiful, clean for the place

It was a very good and comfortable stay for a week with friends. We thank to Barbara and her family, such an honest hospitality. Surrounded by a quiet atmosphere, near the park and 10 mins walk to the Kailua beach. We often go to see the sun rising there in the early morning . Kitchen, bathroom, living room and a private room are very clean and well maintained! I indeed recommend this Hula Girl Cottage for staying in Kailua!

---

Kelley K.

Vereinigte Staaten

Kelley K.

Vereinigte Staaten

Amazing little cottage!

We hit the jackpot with The Hula Girl Cottage! We had never been to Kailua before and this was the perfect place to stay for our little family. Awesome cottage, within walking distance to the beach and restaurants. My husband and I slept in the bedroom and our two kids had the pullout couch. We loved all of the extras they had: 4 boogie boards, 2 beach chairs and a couple of snorkels with fins. We loved sitting out on the little patio and having coffee in the morning or dinner in the evening and enjoying the beautiful weather. We also commented on how big and nice the shower was for a small cottage. We had an amazing week and will definitely be back to do it all over again!

---

Uta H.

Vereinigte Staaten

Uta H.

Vereinigte Staaten

Perfect Island Retreat

We loved our week-long stay at Barbara and James' tucked-away guest quarters. It is 10 min walk from Kailua Beach Park and a 10 min walk to downtown Kailua. Perfect! The neighborhood is quiet, the quarters are clean and bright, and the side yard outside has lovely plantings. We made good use of the provided beach towels, chairs, snorkel gear, and boogie boards. The kitchenette is nicely supplied, too, and the washer/dryer was much appreciated as we packed light. The portable drying rack was perfect for beach towels and swim gear. We will definitely be back at this property! Mahalo!

---

Brad F.

Vereinigte Staaten

Brad F.

Vereinigte Staaten

Great Place, Great Location

What a beautiful, cozy place for our week in Oahu. It was the perfect launching pad for our daily excursions. Ten minute walk to Kailua Beach--which is beautiful. Ten minute walk to downtown Kailua with some great restaurants. And the accommodations were bright, clean, cheerful and homey. Loved it all.

---

Erik S.

Erik S.

Hula Girl Cottage!

Just Do It! You won't regret the hospitality and tranquility of this cottage! I can't wait to return and do it all over again! Enjoy!

---

Nichole A.

Nichole A.

Hula Girl Cottage

We so enjoyed our stay in the Hula Girl Cottage. Barbara has made the cottage very comfortable, with everything you need away from home. The location was perfect too, close to shopping, restaurants, and most importantly, the beach! Thank you!

---

Gerde a.

Gerde a.

Perfect accomodation

We have been travelling to the Hawaiian Islands for many years but this is the best we have ever seen. Barbara is such a charming person and she put so much emphasis on details and colors. The cleanliness and the decors are incredible. We highly recommend this cottage. Next time we stay longer.

---

Richard J.

Richard J.

Great place! Lacked basic information and instructions.

The cottage is clean, tastefully decorated, and exactly as described and pictured. The location is a short walk to the beach. However, unless you plan on doing nothing but the beach, as the description states, a car is strongly recommended. Barbara was responsive to messages prior to our arrival and during our stay. However, she was returning from being out of the country when we checked in and the young man that was there didn't know much about the rental. We were not notified that this would be the case nor were we ever provided with check-in instructions. Even when Barbara retuned she made no effort to come by and see if we had any questions. She lives on the property, yet we never met her during our 5 night stay. If we hadn't read in other people's reviews about the beach gear available and then searched for it, we would not have known it was there. Other self check-in places we have stayed at provide a binder with instructions about available amenities, local tours, and recommended places to eat, etc. This place has nothing. Lastly, prior to making our reservation back in May, I inquired to see if the cottage had A/C. Barbara responded that they planned to have A/C in the cottage by the time we arrived in September. No mention of any additional charge and no follow-up prior to us arriving that it was in fact available. We inquired about the A/C with the young man that was there when we arrived but he knew nothing about it. When I messaged Barbara the next day she said they had a portable unit they would bring over for $25/day. It was very hot and humid our entire stay. So I paid an additional $100 for 4 days of A/C that only cooled one room. Again the cottage is very nice and the description now states that the A/C is extra. But we were very disappointed with the lack of hospitality.

---

Ned &.

Ned &.

Great week with daughter

We liked the Hula Girl very much--clean, roomy, convenient to town (with no car for first few days) and well-supplied cottage. (Cute lamp) Our privacy respected, so had long dinners and talk with our daughter who has lived on the islands for over 10 years, so we had the "quality time" we rarely get in phone calls. Wife left necklace behind but staff found it--thanks. Only concern, no A/C. On humid, 90 degree days would have been appreciated.

---

Karl W.

Vereinigte Staaten

Karl W.

Vereinigte Staaten

New favorite spot

The unit was close(10 min walk) to one of the best beaches on Oahu and stores. We felt at home and enjoyed our vacation even more being at this location. There are a nearby park and many markets and restaurants. The ceiling fan was great so that we can enjoy the natural breeze even in the afternoon. Owners were very thoughtful and we didn't mind the attached unit.

---

Marie W.

Marie W.

Perfect spot!

We had a great stay at the hula girl cottage! Everything was just as pictured. The place very clean and well equipped with kitchen and beach supplies. The neighbourhood was quiet and within walking distance to the beach and shops. I'd absolutely recommend to anyone!

---

Florian S.

Florian S.

Hübsches Zuhause auf Zeit, gute Lage zwischen Stadt und Strand. Uns fehlte an nichts.

Wir hatten einen wunderbaren Aufenthalt im schön möblierten und gut ausgestatteten Hula Girl Cottage in Kailua. Die Nachbarschaft ist ruhig und die Lage des Apartments hervorragend. In Gehdistanz zur Stadt wie auch zum bekannten Kailua- und Lanikai Strand. Ausserdem stehen auch Fahrräder und ein Parkplatz vor der Türe zur Verfügung. Die Gastgeber sind sehr nett und ermöglichten uns einen rundum gelungenen Aufenthalt. Herzlichen Dank, wir würden jederzeit wieder kommen und können The Hula Girl Cottage empfehlen.

---

Carina M.

Carina M.

Wonderful stay at the Hula girl cottage

Thank you for Barbara for a wonderful stay, the accommodation location was perfect, the cottage was perfectly clean and cozy. Barbara thought of everything a vacationer could want during our stay. We enjoyed the bikes, the snorkeling gear, beach towels and all the other little thoughtful items in the home. We walked everywhere including a 5 mile beach walk every morning, it was a beautiful beach and sweet little town. Thank you for everything. Sincerely, Scott and Carina

---

Sarah H.

Sarah H.

The Hula Girl Cottage

The Hula Girl Cottage is fantastic! Excellent location and a beautiful, clean space. Barbara was an attentive host as well.

---

Courtney W.

Courtney W.

Perfect family getaway!!

The Hula Girl Cottage was absolutely perfect for our family of four. A great homebase to all our sightseeing. We had two small children and the house was well equipped with all our needs. Barbara even allowed us to move a glass table out of the living area into storage to accommodate our kids. The beach was a 10 min walk. Gorgeous! Make sure you snorkel at Lanakai. It was awesome!!!! Snorkeling gear is provided at the cottage! Can't wait to return!

---

Emilia B.

Emilia B.

Hula Girl Cottage, Kailua best Place

The Cottage was clean and good Looking, near to everything you need to have nice vacation. The owners are very friendly and helped us with every questions we had... we will stand there every Time again. Aloha from Germany

---

Patricia J.

Patricia J.

Cute, clean, great location and fun beach town

I loved staying here. It's cute and clean, like the photos show, and feels like it's been recently remodeled. Nice kitchen and bath. Plenty of closet space, including two tall dressers in the bedroom closet. This cottage has all the beach amenities I wanted plus, thoughtfully, some other household items I have at home but which are rarely kept in rentals. (Thank you!) Great location. Close to the beach and town. It was fun riding the bikes around, and there are plenty of safe bike lanes. Kailua turned out to be a great location—fun things to do in town (including lounging at either of two amazing beaches, Kailua and Lanikai), close to the Pillbox Hike, plus ½ hour or less to the Makapuu Point lighthouse trail and the snorkeling at Hanauma Bay. Only about ½ hour into Honolulu but far away from the crowds. This is a great beach town to stay in without feeling overly touristic. And the price is so affordable I stayed for a week. It was one of those places where the longer I stayed, the longer I wanted to stay. Barbara, James and Eddie (their dog) are all friendly, while respecting my privacy. I can't wait to come back.

---
More-reviews ↓