Private Beachlane House with 2 bedrooms * AC
---
4-5

People

2

Bedrooms

1

Bathroom

1200ft²
Vintage hawai'ian style beach home located in a tropical garden setting, just steps to Kailua beach with 2 air-conditioned bedrooms and 1 1/2 bathrooms inside plus a tropical private shower outside.
The Kalaheo Beach House is a spacious 2 bedroom, 1 1/2 bath traditional plantation home offering an authentic Hawaiian living experience in a private, serene, garden setting, only steps away from world famous Kailua Beach.
Welcome to our charming vintage Hawaiian style 2 bedroom, 1 1/2 bath Beachlane home.
The Kalaheo Beach House is ideally situated on a private beach lane, in a serene, garden setting, only 240 steps away ( we counted them) from world famous Kailua Beach on Oahu's windward side.
It is truly four minutes out the front door and down the private lane to access beautiful, uncrowded Kailua Beach.
Outside the house, there is a large garden area with outdoor shower, a breezy, lovely open deck with furniture and a gas BBQ.
The storage shed contains 3 small adult bicycles, 2 surf boards, beach chairs, small coolers, boogie boards and float noodles for use at the beach. There also is a beach wagon to pull the chairs to the beach.
An open Hawaiian outdoor hot/cold shower is behind the house for you to enjoy when you come from the beach.
Inside the house you will find another bathroom with shower, toilet and sink and a 1/2 bath with a toilet.
One bedroom comes with a king sized bed and a second bedroom with two extra-long twin beds.
We offer a pack and play' and a 'chair mount high chair' for parents of young children.
There is a full kitchen with full size refrigerator, freezer & ice maker, full stove, but no automatic dish washer, a dining area for 6 and a nice living room with large flat screen cable connected HDTV and a Fold down futon.
There is a large desk in the kitchen with Wi-Fi internet access for your laptop.
Most days island trade winds and ceiling fans will keep you comfortable but at night or when needed, there is air-conditioning for your added comfort in each bedroom and a whole house fan to cool the living/dining room.
There is a washer and dryer on the property and a double wide parking space.
The property manager lives in Kailua and is very responsive. We will be as involved as you'd like.
The Neighborhood
At Kalaheo Beach House you might hear the surf at night. If you're looking for an out of the way Hawaiian vacation rental, walking distance to Kailua Town and the beach, look no further. We are located in a lovely neighborhood in the nicest place on earth. Seven golf courses in a five-mile radius, tennis courts, an Olympic-sized pool, fabulous beaches, activity adventures, exciting shopping, and gourmet dining -- Kailua has everything; two and a half miles of white sand beach with no hotels, resorts, time shares or beachfront condos.

This is affordable paradise.
Rental rate includes all utilities and Wifi
Electrical use up to $300 a month is included.
Damage deposit will cover electrical use for more than $300/month
This property is a legally established dwelling that is rented for period of 30 consecutive days or more at any one time regardless of actual occupancy.
GE: GE-004-671-6928-01 TAT# TA-004-671-6928-01
+ More
Less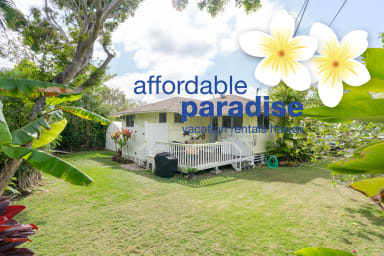 hallway with art work from the owner
air-conditioned bedroom with queen size bed
air conditioned second bedroom with 2 twin beds
large selection of beach toys and bikes for our guests use
beautiful, uncrowded Kailua Beach.
The Space
Accommodates: 4-5
Bedrooms: 2
Bathrooms: 1
Property Type: House
Check-in: 15:00
Check-out: 10:00
---
Amenities
Laptop Friendly Workspace

Long Term Rentals Available
Great location, outdated home

Good: -Incredible location with easy access to the center of Kailua Bay -Wonderful and welcoming neighbors -Shed stocked with beach supplies and a great bike -Well maintained landscaping and a lovely deck Bad: -Odor in the hallway and closets -Worn and stained linoleum flooring and carpeting throughout -Cheap or broken household amenities and furnishings -Very broken in and lumpy mattresses Generally my impression is that the interior of the home is not too well cared for. This would easily be a 5 star property with a relatively small investment into refinishing floors and countertops along with some higher end furnishings.

August 2022

---

Mostly wonderful!

First, the positives: 1. Proximity to the beach — fabulous! 2. Having everything needed for the beach life, including masks and snorkels which we took to Hanauma bay 3. Actually added up to 2 bathrooms, in that there were 2 toilets, a sink outside the 2nd toilet room, and a shower outside. This means one set of people can use that setup and leave the full bath to the others 4. Nice lanai which is perfect for dinner and visiting after, cool breezes make it so comfortable Then the negatives: 1. I would advise all except those who are used to heat and humidity and function well in it — to not use this house in August or September, the hottest months in Hawaii. (Our group are all used to heat and humidity, but we all have central air conditioning.) Nights were fine without air conditioning for some of us, not others. When we returned in mid-afternoon, the air conditioner in the living room is more powerful than the bedroom ones, and after a while the temperature there is decent. But trying to use the bedrooms in the afternoon just didn't work. A friend who lives in Kailua said his house is similar but always cool due to his having extended the eaves so the south-facing windows never have sun, also he put a "whirligig" in his attic/crawl space to remove the hot air there, and he has an enormous shade tree so the yard and most of the house is shaded. An alternative would be to get solar panels to power whole-house air conditioning. 2. The house is old, drawers and windows don't close easily, some handles are loose, etc.

September 2021

---

sally g.

Great location, older house

Amazing quiet, street and neighbors. Short walk to an amazing beach and 2 minute drive to another incredible beach. House is well set up for children, has two wagons, boards, beach toys and umbrellas. Appreciated a beautiful flower display on welcome. Adorable lawn to play in. No dishwasher and you are asked to do your own dishes prior to leaving which was worrisome in terms of how clean the dishes were when we got the house. A house ceaner came midway through our stay but told us she was just helping a friend and didn't typically clean houses, had never been there and so didn't know where the sheets or anything were so was not super helpful and a little concerning with all of our stuff laying around the house.

July 2021

---

Stephanie G. (

United States

)

Christmas Holiday

Nice location, next to a great beach. The waves were fantastic! My sons and I enjoyed the body surfing.

January 2020

---

Katrin M.

Highly recommended

For a perfect beach vacation this is really all you need, located a 2 minutes walk from the most gorgeous stretch of beach on Oahu and equipped with lots of fun stuff to enjoy the beach, body boards, snorkeling gear, you'll even find some stuff for your baby or toddler. The house was spotless clean, the two bedrooms have air conditioning, the garden is beautiful. The communication with the property managers was also great, we would totally rent it again. Thanks for a beautiful vacation, Katrin, Wouter and baby Marlene

October 2019

---

Barbara F. (

United States

)

Wonderful house in a great location.

Walk to the beach or restaurants from a nice house with a shed full of bikes and beach toys. What more could one want?

July 2019

---

Angela F. (

United States

)

Fantastic!

House had everything we needed...even boogie boards and snorkeling gear! The walk to the beach took only a couple of minutes and was beautiful! The BEST beach we visited on the island. We loved Kailua! Couldn't have had a better experience!

June 2019

---

kenneth r. (

United States

)

ken

Very misleading the second bathroom is a three by three room with a toilet.

May 2019

---

Kalaheo Beach Cottage Gem!

This house was absolutely fantastic for a vacationing family of four! We used to live in Kailua and have an appreciation for how hard it is to keep a house near the beach clean and bright. The Kalaheo Beach Cottage was very welcoming, clean, well-supplied and nicely decorated with bright Hawaiian prints. We especially appreciated the beach proximity so that the kids could play at the beach while we prepared meals in the large kitchen. The available rec equipment was a great bonus so we didn't have to go rent everything. It was everything we needed to have a great vacation at a price comparable to a single hotel room. We'll be back!

August 2018

---

Jesse E.

great place great location!

We loved this house! We will be staying again. Its just what you want, and the outdoor shower with warm water is a plus

July 2018

---

Yara W.

Great location!

We had a great stay, awesome location and home is large and comfortable!

June 2018

---

Candace J.

We had the most delightful stay at this oh-so-sweet beach place

We had the most delightful stay at this wonderful Kailua cottage. We were just steps from the most beautiful beach in the world. The cottage was charming, comfortable, clean and well-equipped with everything our group of 4 needed for our 10-day stay. The kitchen had all the comforts of home, the beds and pillows were very comfortable and there were ample linens. There's a deck with patio furniture to eat outside, and beach towels, beach/water toys, and bikes are provided, so we were well set for enjoying plenty of time on the beach or riding around the neighborhood. A great coffee place/deli is a beautiful walk down the beach, and restaurants and shopping are within walking distance. We just loved being there and would go back again to the Cottage in a heartbeat! Thank you again for the most wonderful time! I can't tell you how much I enjoyed it. Wishing you and Pat the best! Candace Joy Canda and I stayed at Kailua beach cottage for 9 days in February. I simply did not want to leave this oh-so-sweet beach place! From the large, private outdoor shower (with hot water!) to the large old banyan tree and private back deck, this inviting home defines relaxed island comfort and charm. It is situated on a small, quiet street with easy parking right at the front door. Upon arrival, I literally dropped off my suitcase, threw on my bathing suit, and was in the water within an hour of leaving Honolulu airport. Only a short stroll to stunning Kailua beach, the cottage location offered both privacy and the quick beach access I wanted. Grab a coffee or tea and head to the beach to catch a sunrise. Sort through the assortment of water and outdoor "toys" and make for an active day. Fix breakfast in the large kitchen, or prepare a picnic and head back to the beach. There is plenty of space for fun indoor or outdoor gatherings, including a nicely-sized living room and dining area. Bedrooms have ample closet and drawer space, and ceiling fans to circulate that lusci

March 2018

---
€297.00
/ nightly
Book Now
Number of 5-star Reviews
5-star review tracker
Commitment Rate
100% - we never cancel a stay
Average Response Time
within a few hours