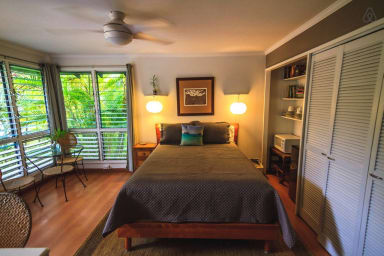 Charming Studio in Prime Location at Unbeatable Rates
---
2

People

1

Bedroom

1

Bathroom

300ft²
Welcome to this tropical oasis! Step into this spacious room that exudes a vibrant and fun atmosphere, boasting its very own private bathroom and entrance. Just a short stroll of 5-10 minutes will lead you to the breathtaking Kailua Beach & Beach Park.
Inside the room, you'll find everything you need for a comfortable stay. The room is adorned with a queen size bed, perfect for unwinding after a day of adventures.
Keep your snacks cool with the waist-high refrigerator featuring a separate freezer compartment. The convenient microwave allows you to heat up delicious treats, while the television ensures you stay entertained. And for all the coffee lovers out there, a coffee maker is also provided. A ceiling fan and floor-to-ceiling louver windows provide excellent cross ventilation.
Stay connected with high-speed internet access, boasting an impressive upload speed of over 300 dpi. Whether you need to catch up on work or simply want to share your tropical paradise experience with friends and family, staying connected has never been easier.
A flight of stairs that leads you to a small landing adorned with outdoor chairs for you to relax. Inside the room, you'll find a table with open shutters that reveal the lush tropical surroundings. It's a magical spot where you can feel the essence of the garden without pesky mosquitoes.
Please note that this property is strictly non-smoking to ensure a clean and fresh atmosphere for all guests. Additionally, breakfast is not included in your stay.
Rest easy knowing that off-street private parking is available, providing you with convenient access to your private studio.
Get ready to embrace the tropical charm and create unforgettable memories in this vibrant and inviting space!
Owner does live on property. We will be as involved as you'd like.
You might hear the surf at night. If you're looking for an out of the way Hawaiian vacation rental, walking distance to Kailua Town and the beach, look no further. We are located in a lovely neighborhood in the nicest place on earth. Seven golf courses in a five-mile radius, tennis courts, an Olympic-sized pool, fabulous beaches, activity adventures, exciting shopping, and gourmet dining -- Kailua has everything; two and a half miles of white sand beach, no hotels, resorts, time shares or beachfront condos. This is Affordable Paradise.
A bus stops is located down the street..
Bikes are available for rent in Kailua.
Car rental is available at Honolulu Airport or in Kailua
This property is a legally established dwelling that is rented for periods of 30 consecutive days or more at any one time regardless of actual occupancy.
TA-077-886-6688-01R
+ More
Less
large tropical bedroom with private entrance
kitchenette with refrigerator coffee machine and microwave
The Space
Accommodates: 2
Bedrooms: 1
Bathrooms: 1
Property Type: Studio
Check-in: 15:00
Check-out: 10:00
---
Amenities
Laptop Friendly Workspace

Long Term Rentals Available
Brooke W. (

United States

)

A super comfy home away from home!

I stayed at D&D's B&B by myself as a solo mommy trip, it was perfect! It had everything I needed: comfy bed, comfy linens and pillows, coffee station, mini fridge, microwave, plates/utensils, eating area, desk for journaling/working, tv and wifi, and a great bathroom! and all within a short walking distance to the beach, Kalapawai, a nice walk into Lanikai or town. Great location! Hosts were friendly and available if I needed something, but otherwise it was very private. Thanks D&D!

April 2023

---

Ed G.

Great place!

Great location, nice, clean and safe. Easy walk to beach or town. Excellent hosts! Will definitely book again.

January 2023

---

James C.

Great way to transition to Hawaii

So I was in the process of moving to Hawaii and I found this home through AirBNB. I was originally looking to move to Honolulu, but after a month of spending time in Kailua I ended up staying here and founding a place down the road. So now I'm happy to call D+D my neighbors. A little bit about the area. So they live in a nice street which is easy to get in and out from as well as they are just a few minutes from downtown Kailua. This is a plus since the unit doesn't have a kitchen. Instead you can go eat at the many restaurants just a few minutes away. (I went to Over Easy and Morning Brew a lot and it was a fantastic experience!!) One of my favorite things to do while staying here was talking with Dayna whom is usually out on her lanai tutoring kids from around the area which was fantastic to see and I enjoyed my conversations with her. With that said it was a great experience and she cleaned my room once a week. They had great information on the desk when you arrive about the area and things to do. This unit has all basic amenities like a microwave, coffee pot, plates and silverware and a few condiments. I'm worry with the laws changing in Hawaii for short term rentals and you'll need to stay longer to get excepted into any place which will hurt the locals like D+D trying to get by with what they have and the extra business helps. So if you are coming to Hawaii and can stay here please do. Mahalo! JC

May 2022

---

Evelyn

Amazing

Dayna made it feel so comfortable. We had everything we could have needed . She provided coffee for us and even left us some sweets when she did our Laundry . The one month we stayed there helped us get settled into our new home without having to worry about rushing . We also got married while staying here and the location of the house was The perfect Distance from the beach where we had our photo shoot . We can not thank them enough for their hospitality.

October 2020

---

Stephen S.

5 Weeks in Paradise

Dayna's B & B was in a nice neighborhood and the room was clean and Dayna left a treat from time to time Bathroom was up dated with all new features and the shower was wonderful a great place to stay.

March 2020

---

Excellent

Our stay in the house was fantastic. Dayna and her husband are great. The room is very nice, very clean, spacious and very bright. thw neigbourhood is quiet. Everything was great. For sure we will back!

January 2020

---

Nan L.

D+Ds B+B sweet island style studio

Truly sweet studio in a wonderful location. So close to the beach and little shops. Lovely hosts equaled a great experience.

January 2020

---

Peter H.

Great

D&D's place worked perfectly for the two of us. Quiet street, walking distance to beach, very comfortable. Would stay here again.

November 2019

---

Francis M. (

United States

)

Amazing place to stay!

Dayna was an amazing host! The studio was beautifully done. It sat within a little garden so you could see the tropical plants from inside the studio. Dayna did lots of little things to make us feel welcome like having water, coffee and juice for us. She also left cookies on some days and macadamia nuts on others as snacks that were welcome at the beach! She also had beach chairs, boogie boards, beach towels and snorkel equipment for our use. The studio is a short 2 minute drive from the beach and probably was a 10 minute walk had we chosen to walk it. The location was perfect as it was a nice quiet neighborhood but was a 1 minute drive or 5 minute drive from lots of restaurants. Kailua is a beautiful town and what I would call "real Hawaii" versus staying somewhere like Honolulu! Dayna was also a wealth of knowledge about the island, the town of Kailua and had lots of recommendations on things to do and see. Thanks for a great experience Dayna!

September 2019

---

Gute Lage & Freundliche Host

Super Lage kurzer Weg zum Strand und in die Stadt. Super Startpunkt für alle Sightseeingtouren. Klein aber mit viel lieben Details der Gastgeber wie Strandequitment wie Tücher und Schnorchelsachen, Drinks, Badepflegemittel wie Shampoo etc.! Für alle Individualisten sehr geeignet.

September 2019

---

Francesc

It is a very good choice if you look for a pleasant and quiet place at the beach and not so far away from Honolulu

August 2019

---

First Timer

Very quaint, perfect for any couple. 10min walking distance from Kailua Beach & few shops. Great ppl, very laidback & easy going couple. There's no A/C but that didnt ruin our nights or sleeping. So much fun there, will def comeback again. Bring lots of water!

May 2019

---

Monita G.

D+Ds B+B- sweet, island-style studio

Absolutely loved our stay at Barbara's place in kailua. Loved the hospitality we got. Dayna and Detlev were so lovely to deal with. Will definitely be back.

May 2019

---

All You need

Had a very pleasant stay at the Even families studio ! Everything was provided and kept spiffy clean. The Evens were the landlords You wish for, helpful when You needed it and otherwise respecting Your peace of mind ! Hawaian style... Thx

February 2019

---

Janelle A. (

United States

)

Home Away From Home

Great location - walking distance to shopping, town square, Kailua and Lanikai Beaches, Pillbox trail, and Enchanted Lakes area. Secluded room with garden views. Room was quiet, peaceful and clean.

December 2018

---

Eileen M. (

United States

)

D+D's B+B

Great location. Helpful hosts. Cute studio - has everything that you need.

November 2018

---

Great place to stay

We really loved the place, it is big and spacious and the shower is excellent. It is in a normal neigborhood but stil quiet. Parking available. The only thing we missed was al little place to sit outside. Other than that overal good en we would defenitly stay again.

October 2018

---

SABRINA G. (

United States

)

Wonderful

The place was wonderful. Amazing location, clean, and perfect for a couple.

October 2018

---

Kailua is beautiful

It was a good decision to take this B&B. It is on a beautiful Place in Kailua, a Great town to feel relax and in nature Paradise. The Beach and Restaurants and also Shopping is Very close. The Apartment is really nice and you feel is instantly like you're living there. We haven't seen Dayna and Deltev much but this was Not a Problem. All in all, we felt very well here. Thanks Them for all!

October 2018

---

Henning K. (

United States

)

Excellent location, awesome place and amazing hosts!

I had an amazing time at D+D's B+B and enjoyed every minute of it. The location is in walking distance to the beach, the accommodation was very nice with a newly remodeled bathroom and and the hosts were not only very very nice but went out if there way to make my stay very special - thanks so much! HK

August 2018

---
€70.00

→

€75.00

/ nightly
Book Now
Number of 5-star Reviews
5-star review tracker
Commitment Rate
100% - we never cancel a stay
Average Response Time
within a few hours